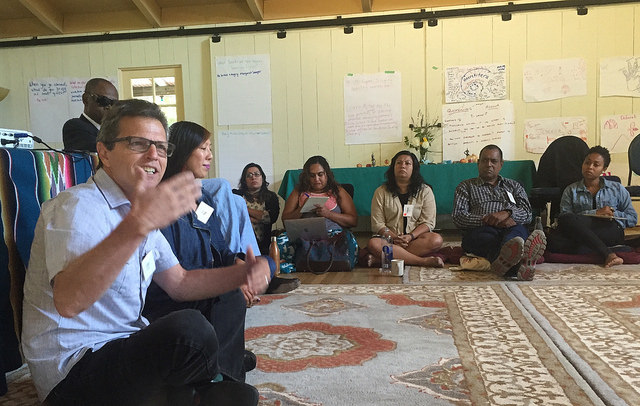 Finding hope: How our long-term grantee partners shaped TWI
"Statistics show that when folks are welcomed back and given access and told 'your voice matters' and they are embraced they do much better in society. For a lot of our folks, they feel they have never been heard at all in their lives." – Selinda Guerrero
Selinda Guerrero is the New Mexico Field Organizer for Forward Together, one of TWI's long-term partners. Her quote, which stuck with me, was in a recent news article reporting on the work of community members to help pass legislation in New Mexico that will allow formerly incarcerated people to vote (it looks likely to pass).
The quote stuck with me because it echoed so many elements of TWI's mission and values. Knowing your voice matters and feeling heard are central tenets of productive dialogue, one of TWI's core values. Embodying a spirit of welcome and embrace to those who have been marginalized bespeaks TWI's values of relationship building, inclusivity, and equity. Doing better in society calls to mind our long focus on civic engagement – both how we as individuals show up in our communities and how society does better when all of us do better.
Though our grantee partners work in different areas and contexts, these elements are present throughout the work of those TWI has been honored and privileged to support.
In the article, Selinda also says that, as an organizer, her main work is to "give voice to the voiceless."
Thinking about our multi-year grantee partners especially, I reflected on how much the notion of helping people express their voices in different contexts and through different platforms runs throughout our funding portfolio.
It's present in the organizing and movement work of Thousand Currents, ACCE Institute, and Blueprint North Carolina. It's present in The Beat Within, which for 25 years has been regularly publishing the writings of incarcerated youth, and in the equity-driven community journalism of Renaissance Journalism. It's present in Active Voice Lab's work with documentary film and storytelling and in Voice of Witness's oral history books and projects. It's present in The Right Question Institute's Microdemocracy approach and in On the Move's work developing emerging leaders through community action.
Finding hope not in 'what,' but 'how'
Over the years people have sometimes looked at TWI's multi-issue funding portfolio and not readily seen a through-line. For me, it's always been a patterned tapestry, woven of shared values, that shows how we do our work matters.
One example is On the Move. When TWI began making grants to On the Move in 2005, they were a start-up with a staff of two. I was drawn to them because of the way they created space for reflection and dialogue, building a learning culture that enabled them to be adaptive, opportunistic, and effective. They have maintained that culture even as they've gone through major leadership transitions, responded to local disasters, incubated new programs, and grown to over 100 employees. Today, they are a trusted anchor in the community and were recently recognized as a 2021 California Nonprofit of the Year. I'm presently honored to facilitate their monthly leadership team reflection and always leave those meetings inspired by their willingness to be vulnerable, to ask for help, to question, challenge, and acknowledge each other.
Too many people at present don't feel seen, heard, welcomed, and embraced. Inequitable social, political, and economic structures and forces can make us feel lonely, alienated, powerless. It can be daunting. But our grantee partners and countless others, fuel hope that power can be built and shifted, that connections across difference can be cultivated, that a societal sense of civic engagement and belonging is possible.
Blueprint North Carolina's and Spirit in Action's new report, How Rural Organizing Can Build Power, shows us how "building relationships based on providing service in the community is seen as a way to build power." That line resonates with so much of what our long-term partners do in different ways.
Finding hope in our own evolution
As we enter TWI's final months, my thoughts often wander back to Fred Whitman, who founded and endowed The Whitman Institute.
Regarding the sometimes thorny question of "donor intent" I have fielded over the years, I've replied that I felt TWI stayed connected to the best of Fred's intentions – which of course could be seen as subjective and self-serving on my part, but also happens to be true, I think.
Having spent years with Fred, I know how much deep down he felt unseen and unheard. How much he struggled, and failed, to find his voice. How much he yearned for connection that was out of reach.
Given TWI's evolution—the work we've supported and the relationships we've built—I'm struck by how people can set in motion, wittingly or not, possibilities and changes they didn't imagine, even if they don't live to see them. And that gives me hope for a future beyond TWI.