Trust-based philanthropy is informed by our experience that funder-grantee relationships are stronger when they are built on the foundation of trust.
The Whitman Institute was motivated by the core belief that efforts to create social, political, and economic equity are more successful when funders proactively work to alleviate power imbalances in the sector by embedding trust, dialogue, and relationship-building in their practices with grantees.
The seeds for trust-based philanthropy were planted in 2013, when we got important feedback from our grantees: beyond grantmaking dollars, the way that TWI shows up makes a big difference in the overall health and well-being of their organizations. Our grantees advised us to use the time left in our spend-out to share our lessons with the philanthropic field in order to help it become more inclusive, more impactful, and more authentic to everyone involved.
Building on our trust-based philanthropy approach, in 2018 the Robert Sterling Clark Foundation and the Headwaters Foundation formally joined TWI to co-conceptualize a collaborative five-year initiative that would invite others in the sector to embody trust-based principles. Soon after, trust-based leaders from General Service Foundation, Durfee Foundation, and Satterberg Foundation came on board to help get the project off the ground.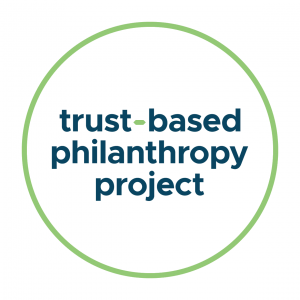 The Trust-Based Philanthropy Project recognizes that these practices are not new, and have been the "how" for some foundations for a long time. Today, the Project builds on the practices we originally conceived at TWI to include a growing community of funders committed to making the ecosystem of philanthropy one that is trust-based, and examining the structural and relational conditions necessary for that ecosystem to:
Center equity, humility and transparency
Recognize the power imbalance between funders and grantees, and work to actively rebalance it
Deeply value the quality of relationships, and honor how we treat others on the path to winning on our issues, as much as the act of winning itself.
In collaboration with our grantee partners and funder allies, we originally identified six interrelated principles to putting trust-based values into practice. The Project has since deepened the methodology around four dimensions rooted in values.
To learn more about trust-based philanthropy, visit and follow the Trust-Based Philanthropy Project.