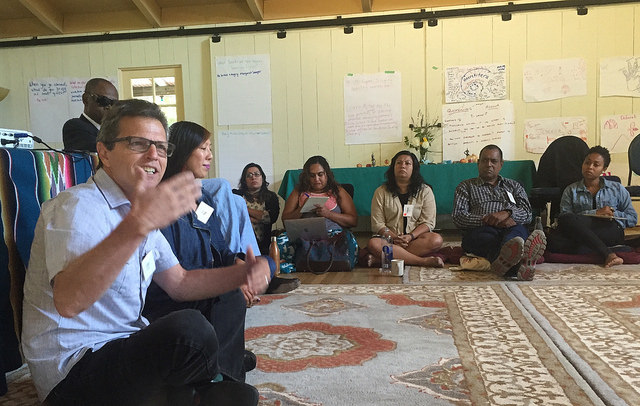 From Lunch to Long-Term Relationship: The Story of TWI and Thousand Currents
A Trust-Based, Collaborative Relationship from the Start
Thousand Currents became part of the Whitman Institute family in 2013, after an unexpectedly fruitful lunch meeting between Rajasvini Bhansali and John Esterle.
"We got together to brainstorm what it would look like for Thousand Currents to model donor education–much like our [grantee] partners do political education in their communities," recalls then executive director Vini.
"And within a week of our conversation, I had received a $25K check to launch the Thousand Currents Academy."
What struck John Esterle the most about Thousand Currents was just how values-aligned it was with The Whitman Institute. At the time, the grassroots grantmaking organization had recently undergone a learning process where it had invited feedback from partners across the Global South about its effectiveness as a grantmaker.
"This example of soliciting feedback was very compelling, especially as we at The Whitman Institute were undergoing similar processes with our own grantee partners," recalls John.
"But what really caught my attention was Thousand Currents' commitment to act on the resounding recommendation from its partners to deepen its own advocacy in the philanthropic sector."
The Whitman Institute's $25K grant laid the groundwork for what would later become the Thousand Currents Academy, an annual weeklong training to build cultural and ecological competence among the next generation of social justice funders. Now in its sixth year, the Academy has equipped over one hundred people with new tools and strategies to practice philanthropy in ways that foster greater collaboration and deeper relationships with grantee partners, influencing hundreds of millions of dollars in giving. They continue to build and support a growing network of "impact influencers." Alongside Thousand Currents' grassroots partners who come to teach each year, the Whitman Institute's Pia Infante is now a recurring faculty member of the Academy. The two organizations are in ongoing brainstorming year after year to refine the program in response to the sector's evolving needs.
"Through very deliberate modeling, the Thousand Currents Academy demonstrates that listening without agenda, interruption, or redirection is actually a sophisticated skillset," notes Pia.
"It prompts participants to consider how their work can be strengthened by routinely practicing deep listening with grantee partners."
Building an Ecosystem of Trust
What has been particularly rewarding for The Whitman Institute in its multi-year relationship with Thousand Currents has been the shared learning around grantmaking and community power building. As a grantmaker, Thousand Currents embodies many of the core values of trust-based philanthropy, including humility, listening, and equity. And just like The Whitman Institute, Thousand Currents is committed to unrestricted grants with no strings attached. According to incoming executive director Solome Lemma, this practice deliberately tilts the power imbalance that exists between grantmakers and grant recipients.
"It ensures the partner self-determines the use of resources," Solome explains. "It signals the deep trust we have in our partners and opens the door for more honest dialogue and deeper relationships. Over time, this allows us to sharpen our analysis, sharpen our practice."
Thousand Currents staff practice what they preach when it comes to trusting grassroots leaders in the Global South. Much of this is rooted in the unshakeable understanding that movement building is not linear, and thus a successful funding strategy must be inherently collaborative and relationship-based. As such, Thousand Currents embraces opportunities to learn and deepen its commitment to humility and equity, even when it is unexpected or challenging.
One such example was with its grantee partner Surplus People's Project (SPP), a South Africa-based organization that works to advance agrarian reform, food sovereignty, and economic justice among marginalized South African communities. When Thousand Currents first approached SPP with interest in funding its work, then Executive Director Herschelle Milford politely told them no. She would have to look into the organization before accepting any money.
"As Africans, we have had so many experiences of oppression and exploitation that it is important for us to claim the space that we can, and push back as far as we can," explains Herschelle.
This vigilance has prompted SPP to draw a clear line in the sand when it comes to funders; the organization only works with funders that value and support African sovereignty and community-led advocacy.
"We cannot compromise the work of our community partners just so we can sustain our organization," adds Herschelle.
What if it was the norm for grantee partners to conduct due diligence on funders before entering into a relationship? This flip of the script was a humbling yet instructive moment for Thousand Currents, as it shined a light on the systemic power imbalances endemic in philanthropic and nonprofit culture, especially among U.S.-based organizations giving in the Global South. For Thousand Currents, this is one of the main drivers of why they practice in a relationship-centered way, working alongside grantee partners rather than above them. Thousand Currents invited Surplus People's Project to see the grantmaker as a true partner in self-determination–and the two organizations have been in an ongoing relationship ever since.
A New Era
The work of Thousand Currents continues to evolve and grow, and this August it will be welcoming a new executive director, Solome Lemma. As outgoing executive director Vini Bhansali points out, transition is a natural part of any ecosystem, and embracing change is a critical part of a thriving, interdependent global community.
Solome will build upon her impressive track record of leading community-led grantmaking for social transformation, most recently as deputy director of Thousand Currents. As the organization enters a new era of leadership, it remains rooted in collaborative, community-led social justice. In a recent statement, from Thousand Currents' Board of Directors, Fahad Ahmad notes,
"This leadership transition is just another milestone in a proud organizational history characterized by continual learning, growing, and reflection—always centering our partners and their work."