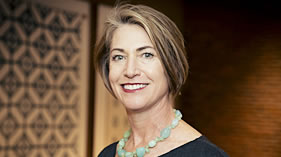 Creativity Over Convention: A Conversation with Carrie Avery
co-authored by: Pia Infante and Teju Adisa-Farrar
Carrie Avery, President and Trustee of the Durfee Foundation, joined us last week to share a bit about her multi-decade journey as a grant-maker and steward of a family legacy. A third generation family member (she's a granddaughter of Durfee Foundation's founders Stan and Dorothy Avery), Carrie has helped solidify an approach to regionally focused, mission driven grant-making that builds and sustains trust-based partnerships through "time, care and courtesy."
The fact that a prospective grantee might reach Carrie or her long-time collaborator and staff partner, Executive Director Claire Peeps, on the phone to pose a question demonstrates how practical, and human-centered the Durfee approach is. And, she joked, Durfee's approach pre-dates the human-centered design thinking that has come out of Stanford's d school.
Durfee's programs themselves are clearly born of an understanding of complex human realities in creating social change – their well established Sabbatical Program honors the need to nurture creativity and reflection in executive leaders; the Stanton Fellowship resources fellows for two years to step back and imagine out-of-the-box solutions to LA's most intractable problems; and the Springboard Fund seeds and scaffolds brand new leadership. These programs speak structurally to the thoughtful way that the Durfee Foundation, and Carrie herself, practices investing – taking deeply into account what leaders say they actually need to innovate and sustain social change work.
We wanted to share several key ideas from Carrie that stuck with us afterwards, and could strengthen any investment and grant-making models that aspire to put humans at the center:
"This [work] was so much more interesting and so creative… I was always finding new layers." Carrie mentioned that she'd originally imagined her time on staff at Durfee Foundation would be temporary, but found the grant-making process so stimulating, creative and rewarding that she opted to stay on instead of returning to a law practice, as she'd intended.
"Where isn't there funding? That's the place for us to be… as a funder." The Durfee Foundation focuses on one region, Los Angeles, and aims to fund organizations, artists, and projects that would otherwise have no funding. Durfee believes they should provide resources where there are very little or none. Durfee looks for "gaps" and provides resources there, helping to increase equity in a region (like this country) that struggles with inequities in a myriad of ways.
"Really listening to what people want and need… and not just what we thought." Carrie discussed how listening and iterative feedback loops are vital to how she leads and how the foundation operates. Durfee attracts and works with people who believe in listening as a key value in the practice of philanthropy. Most importantly, Carrie and the Durfee Foundation practice listening. She believes listening to what the grantees say they need and want has allowed Durfee to be more intentional, deliberate, and helpful in their funding practices.
"When we announce new awards and grants, all the alumni will write in and say: 'Welcome to the family…' so we really do create a family atmosphere." The Durfee foundation is a family foundation, and they have created an extended family out of the community of grantees, alumni, and partners they work with and have worked with over the years. The networks of relationship and trust among and between those in the network is notable, and the subject of a current study which may be released later this year. We are eager to continue learning from Durfee's network engagement.
"Why isn't there more invention out there? So many people [e.g. foundations] do it [grant-making] in the same way… and such an ineffective way." Carrie has noticed during her many years of tenure in the field that foundations follow a conventional mode of grant-making, which is often bureaucratic, not always human-centered and does not rely on feedback loops. She believes there is so much possibility for creativity in grant-making, especially for new and nimble foundations. Carrie's thought – more creativity, less bureaucracy!
"It's hard to understand why a funder wouldn't do it that way." When asked to talk about Durfee's human-centered grant-making approach, which Deanne Stone described in  The Durfee Foundation: The First 50 Years as both "quirky" and based on "time, care, and courtesy," Carrie wondered aloud why others would do it differently.
We heartily agree with Carrie, in particular with her charge to the rest of the sector to place creativity over convention, and, most importantly, to co-design with those we want to support; an investment practice that puts humans at the center of positive and powerful social change.