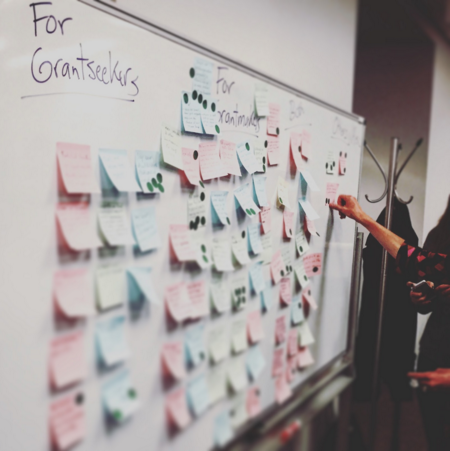 Privilege and Power in Funding Dynamics
Trust-based relationships. Grantee-centric philanthropy. True partnerships that advance impact for communities. How do we together improve the efficiency, respectfulness, and outcomes of our sector?
Recently Jane Leu (previous Peery Foundation grantee, founder of several social ventures and prolific fund raiser), and I hosted a workshop for funders and fund raisers to discuss the funding/fund raising interaction and relationship. The purpose of the workshop was to provide tools for social sector leaders to create peer based interactions that leave us all with more well-spent time and money. We promised participants would walk away with actions they could implement
on Monday
morning.
All workshop sessions included nearly equal numbers of participants who identify as funders and fundraisers. Some of the participants were in a funding relationship with each other. The workshop was held three times the week of September 28th, 2015:
one pilot workshop of 25 participants, was hosted by the 
Tipping Point Community
 in San Francisco, CA, and two sessions with a total of 40 participants was held at 
The Whitman Institute
's "Trust in Practice" Retreat in Santa Cruz, CA.
We framed the conversation about power and privilege by talking about Peggy Macintosh's "invisible knapsack" of unearned advantages and disadvantages. We often hear about this concept of privilege in terms of our work and those we work with, but rarely, if ever, do we think about the professional privilege we might hold, or even the powerlessness our counterparts might experience in their respective roles. We explored this in small groups and heard some amazing sound bites such as: "Nothing will change until we stop equating wealth with intelligence", and, "This was the first time I gave any thought to what privilege I have as someone on the nonprofit side".
After conversations in pairs/trios and with the whole group that explored ways in which both funders and fundraisers experience professional privilege and powerlessness, we asked the group to brainstorm 
actions
–one action per post-it–that can be taken by individuals, organizations, and the sector to redefine privilege and power in the funding relationship. 
Here
, is the transcript of the post-its, organized by who owns the action. We also gave participants up to four dots each to use to vote on ideas that resonated with them. We highlighted those ideas that garnered dots.
The ideas with several dots garnered some meaty discussions on various topics, including:
Exploring if funders could give fund raisers a small stipend for their time spent in applying for a grant

Having alumni grantees take a seat on a funder's board, and community members take a seat on a non-profit's board

How both fund raisers and funders can lead courageous conversations with each other

The importance of convening grantees and funders together in the same room
W
hether you're on the fund raising or the funding sid
e, we know there's something in there for you to learn from–because we both learned so much from the workshops and feedback from participants. One of the most poignant take aways for us was summed up by one participant: "
We are a privileged group of people because it's clear we all love our work". And we do. And that's why we have to do better at the way we work.
Take a look at our list and let us know what you think.
If you're interested in facilitating this workshop with your own network of funders and fund raisers, let us know – we'll share the materials.