"I can't believe the year is almost over." "I'm still trying to wrap my head around the fact that it's December." "How is it 2019 already?!" I've either used or listened to variations on these sentences a lot lately.  Time seems to move ever faster and events that were a just a couple months ago often feel farther back in time.  So much comes at us these days it can be challenging to process it all as we ride a roller coaster of emotions in deeply troubling times (yet times of promise as well).
One constant is that we at TWI are continuously inspired by, and grateful for, the work of our grantee partners.  We are privileged and honored to partner in a spirit of service with you; you ground our work and relationships in meaning and purpose. This was nowhere more evident than when 110 of us – our staff, board, partners, allies, and friends – gathered for a truly memorable TWI Retreat this past October in Santa Cruz.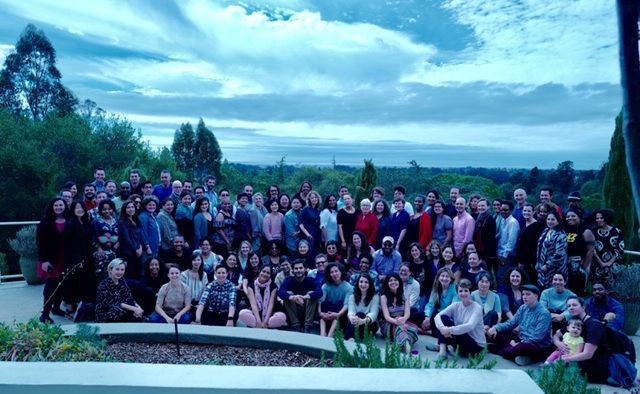 The Retreat's overarching theme was the power of narrative in creating the world we want.  We not only explored public narratives that don't serve us – and there are many – but also narratives of aspiration and intention that we can live into.  We are truly in a time of deconstruction/reconstruction; a time that calls us to engage our radical imaginations and pay attention to how we show up and embody our values with each other in ways big and small.
As TWI's ending date of 2022 gets closer, we are increasingly aware that we're writing the final chapters of TWI's own story.  A significant part of that story now involves our advocacy and organizing around Trust-Based Philanthropy.  Looking ahead to 2019 we are tremendously encouraged by what has transpired in 2018, most notably the way we have partnered with The Robert Sterling Clark and Headwaters Foundations to build a decentralized community of funders committed to modeling and advocating for trust-based grantmaking practices. Stay tuned for more to come on that front!
It also gives us great good pleasure to close the year on a personal note with the happy announcement that Pia Infante, our treasured Co-Executive Director, gave birth to a baby girl, Laniakea Amahle Infante-Hatch, the day after Thanksgiving.  Talk about a new story!  (Part of that story is that Pia will be on leave until the end of March).
On behalf of Pia and TWI's Board, we wish you joyful and restful holidays and a bright New Year.
With Love and Gratitude,
John Esterle
Co-Executive Director
The Whitman Institute