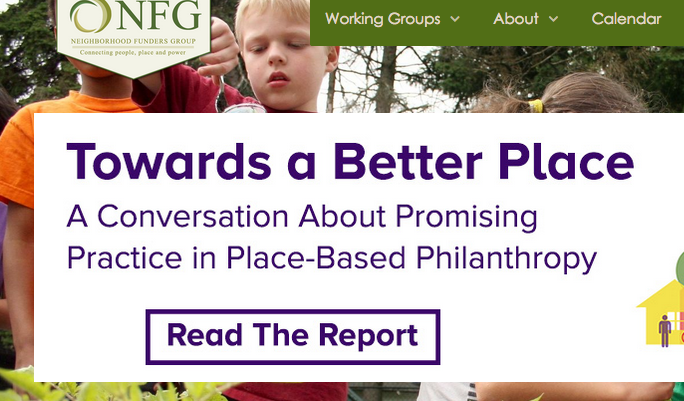 Towards A Better Place: Trusting Relationships Will Move Us Forward
"There needs to be a call to action in this field around relationships and trust."
– Jamie Allison, S. H. Cowell Foundation
I was in the audience when Jamie (also a TWI trustee) made that compelling statement last September during the closing plenary of Towards a Better Place: A Conversation about Promising Practice in Place-Based Philanthropy. Of course, what she said resonated strongly with me – as I think it did with many in the room.
I say that because over the three days of the conference, co-convened by The Aspen Institute Forum for Community Solutions and Neighborhood Funders Group, I'd been struck by how often the themes of trust and relationship building came up in different sessions.
In the case of the September convening, those themes arose in terms of place-based funding, but I also keep observing how much they crop up in other philanthropic conversations as well, especially when it comes to people working across issues, fields, sectors, etc.
As funders, how do we support more systemic, multi-issue, multi-disciplinary approaches to addressing inequity? While I think there is an increasing grasp of 
the importance of moving in this direction,
how
to actually do so is challenging for a variety of reasons.
In this regard, we can learn much from place-based funders, which is why I urge you to read Dennis Quirin's and Steve Patrick's recent post highlighting eight key lessons shared at Towards a Better Place. Whether the lesson involves being a co-learner with those working on the ground, meaningfully involving residents in community engagement and collaboration, or making a long-term commitment, the foundational importance of trusting relationships is implicit in the eight themes they capture.
It's an invitation we've accepted here at TWI and we look forward to seeing how this learning community builds, deepens, and evolves.