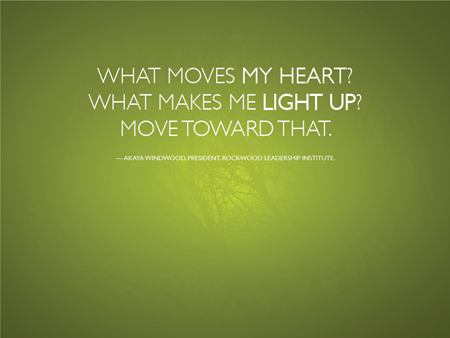 The Rockwood Way: Supporting Leaders To Lead
"To change the way change is done… not just in this country, but all around the world."
-Stacy Kono, Director of Programs @ Rockwood Leadership Institute
This week I was honored to sit down with Stacy Kono to speak with her about the work of the Rockwood Leadership Institute, as well as her own experiences with leadership training and development. Rockwood is a TWI multi-year grantee, whose work we support for several reasons, including: 1) we are aligned with how they link individual, organizational and social change to guiding principles of equity, joy, adaptive leadership, and long term sustainability; 2) their multi-day, transformative leadership trainings have cultivated over 4,500 alumnae who value process and relationship-based work; and 3) they are a powerful advocate and ambassadors for why it is important for both grassroots and policy leaders to invest time and resources for deep reflection, connection and collaboration. Stacy gave me a greater understanding Rockwood's impact on social change leaders, while making the case for why it is so important to support leaders working for sustainable social change.
Stacy began her social impact work with Asian Immigrant Women Advocates (AIWA) doing leadership development and empowerment for low-income Asian women in the Bay Area. She believes teaching people how to find their own power and how to be leaders in their communities is a key aspect of achieving equity. Her work with AIWA enabled Stacy to create space for women to use leadership skills to access their power no matter how powerless they seemed or what their socioeconomic status was. After a decade at AIWA, Stacy found Rockwood and was inspired by their core values and their belief that social change leaders need support in sustaining their work in movement building.
As we began to delve into Rockwood's work and curriculum, Stacy used The Art of Leadership as an example of Rockwood's transformative work. This program helps leaders to discover their purpose and path in social change work. It poses deep questions: How do I want to lead? Is my leadership style sustainable? How can I be a more effective leader? The Art of Leadership, and all of Rockwood's trainings help individuals to lead and build partnerships in ways that lead to stronger organizations and, ultimately, stronger movements.
As an intermediary, capacity-building organization, Rockwood convenes people, but does not take a specific position on particular issues. Rockwood does not tell its participants what is right or wrong. Rather, it brings together "unusual suspects," as Stacy says, into an environment where participants can "trust our house." Leaders who participate in Rockwood still have their own rooms, but the "Rockwood house" allows and encourages them to venture into other rooms to see how they can work together to make their own rooms more effective.
Rockwood enables leaders to view, and potentially use, different perspectives in their own work. The Rockwood house allows leaders to "transform culture through inquiry and leadership," (Stacy Kono, 2015) with a collective of people who believe in similar core values of respect, dignity, peace, trust, power, and sustainability. The Rockwood trainings give people the power to make more effective choices and shift from doing the fighting to focusing [solely] on the leadership for a few days.
Rockwood's principles and curriculum acknowledge the power dynamics that exist in society. Equity, as one of the core aspects of their values, means providing access and resources to certain leaders that would otherwise not have them as a result of certain systems of power. They advocate for equity in their leadership trainings by bringing together a diverse group of leaders with different causes, backgrounds, and political beliefs. In their discourse on equity in leadership they encourage leaders, while in the Rockwood house, to "think beyond their own assumptions and experience" about how social change work should be done, and who is equipped to do it. By "creating a larger movement dialogue to be able to question these assumptions," Rockwood demonstrates, in a powerful way, how dialogue can lead to transformative change (Stacy Kono, 2015).
At root, leadership development is personal development. When you give leaders the space to be curious, to learn from one another, and to make better choices–you call forth their best selves in ways that not only enable them to be better leaders within their individual organizations and movements, but better people within the larger society as a whole. Rockwood supports "a direction towards someone having more freedom in their life," (Stacy Kono, 2015). When one person is more free, they can teach and encourage others to use their power and leadership to also become more free. The ripple effect of this dynamic leads to  more equity and greater social change.
By linking support for leaders, to better movement building, to personal liberation Rockwood Leadership Institute changes how change is done.