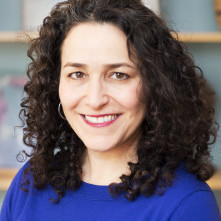 Funder Spotlight: NoVo Foundation
The NoVo Foundation recently announced its Radical Hope Fund, a multi-year commitment to bold and transformative social justice work across the globe. With a motivation to give social justice leaders 'room to dream,' and a desire to support efforts over four years, this fund embodies trust-based philanthropy in many ways. As part of our ongoing series featuring trust-in-practice, TWI sat down with NoVo Executive Director Pamela Shifman (pictured) to get the full scoop:
How is the Radical Hope Fund different from your usual grantmaking? 
Overall, the Radical Hope Fund complements NoVo's current work, either by supporting organizations that don't thematically align with our current initiatives or encouraging existing partners to explore ways to go deeper with connection, collaboration, and courage.
For the majority of our grantmaking, NoVo almost always provides general operating support, since we believe in organizations making their own choices about how they spend their resources to advance their mission. But in this case, the Radical Hope Fund is actually project-based. Our vision is to inspire groups to think outside the box with a specific project in mind, something outside of their current status quo.
What was the inspiration behind the Radical Hope Fund?
The US presidential campaign—and then the election—brought constant threats and real despair to many communities around the country. Activists and community leaders have been acting with such courage and commitment in light of these attacks, and funders should support that work with an equal level of courage and commitment. As a result, NoVo and many funders have increased rapid response funding—and that remains an essential and important first step.
We also know that in times of division and darkness there must also be room to dream. After lots of listening, we heard from community leaders that while the challenges are great, this is also a moment of creativity, innovation, and movement building, grounded in the wisdom of those past and present who have transcended regressive politics. From that, the Radical Hope Fund was born.
What do you mean when you say this fund will give social justice leaders 'room to dream'? 
Radical hope is one of NoVo's core values. It reflects our belief that in a time of great challenge, we can also spur our imaginations and deepen our collective ability to build a more just world. All of that requires room to dream, imagine, and experiment. Our hope is that this fund can support organizations to do what they normally can't do, given the daily demands and constraints on their core work. Our hope is that this will provide them with the ability to step out of their existing spaces and structures, to experiment, think big, and build partnerships with others.
Why make multi-year grants?
We know that 'room to dream' requires both space and time to think big, experiment, and grow. We do not want partners to feel rushed and we know that many projects will take years to come to fruition. Truly transformative work always happens on a long-term timeline, and we hope to help provide as much space and time as possible for movement leaders to build, create, and imagine together.
While you do have some focus areas for the fund, you've kept the parameters deliberately open-ended. Do you worry that you may get proposals that are all over the map?
That is a question we have grappled with. Honestly, this is very big and broad. And we expect we will receive a large number of LOIs, and we know we don't have a perfect process in place. But we decided to keep this intentionally broad and encompassing because we did not want fear to constrain us. Just as partners are bringing boldness to their work every day, we must mirror that in our work as funders. We knew that creating false boundaries would not serve to resource the creativity that's out there.
So while the fund is broad, it is centered around four particular focus areas: 1) Bringing communities together for cross-issue, cross-sectoral organizing; 2) Global solidarity and transnational movement-building; 3) Leveraging the power of media, culture, and the arts; and 4) Seeding experiments in building new structures and systems to propel us into a world that is oriented around interdependence, mutuality, and love with an emphasis on local, community-driven solutions.
All of NoVo's grantmaking is informed by the belief that real change happens from the community level up, which is very aligned with trust-based philanthropy. How do you see trust factoring into your work?
You can't have radical hope without having radical trust. Radical trust requires having a deep belief that those who live with certain problems know the best solutions to those problems. In philanthropy, we need to listen to and trust those who are really on the front lines of making change and doing the work that is impacting their communities.
Have you been surprised by any of the reactions or responses since you announced the Radical Hope Fund?
We're really excited that so many organizations are embracing the value of feminist leadership and are putting this at the center of their work and their proposals. And it has been really validating that people are excited about the opportunity to think creatively and think outside the box and develop new partnerships.
What advice do you have for funders that want to launch an innovation fund like this, especially if they're concerned about measurable goals?
Measurable goals are important but they should come from movement leaders and communities working on the ground. They will set their own measurable goals, because they want to be successful in making change, and they have a deep and vested interest in seeing transformational social change—especially given the current hostile environment. With this in mind, my advice is that an innovation fund should be grounded in radical trust, that is, take the time to deeply listen to those who are most impacted by certain issues and put those insights at the center of your work.
The deadline for the Radical Hope Fund is October 4, 2017 at 12pm ET. Interested applicants are encouraged to submit LOIs via NoVo's online submission form.
About this blog series: Every month, TWI will feature foundations that are embodying trust-based philanthropy, i.e., approaching their decision-making and their grantee relationships in a way that acknowledges the power dynamics and realities facing nonprofit organizations and that invites more authentic relationships and communication. If you have suggestions for featured foundations for this series, email us at contact@dev-twi-wp.pantheonsite.io.